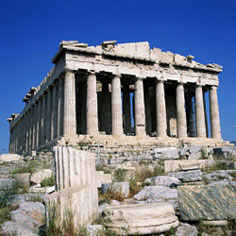 Between 500BC and 400BC, Athens was the most important city in the world. Many of ancient Greece's greatest thinkers, artists and writers lived here.
At the centre of Athens is a rocky hill called the Acropolis. This was the site of the city's most important temples. The largest temple was called the Parthenon. Inside there was a stunning gold and ivory statue of the goddess of the city, Athena.
Athens was also the world's first democracy. Instead of being ruled by a king, Athenian citizens would meet to decide how the city should be run. However, not everyone got a say - women, slaves and foreigners were not allowed to vote.
(Text taken from: Who were the ancient Greeks? - BBC Bitesize )