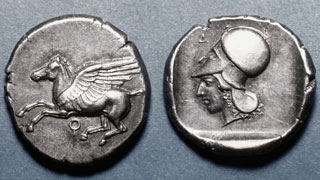 Around 400BC, Corinth was one of the largest and most important cities in ancient Greece.
It was located right at the centre of Greece, so was in a good place for trade.
Corinthians used a special type of silver coin called a stater. Traders had to use these for buying and selling when they were in the city.
On one side of the coin was a winged-horse called Pegasus and on the other was the goddess Athena.
(Taken from: Who were the ancient Greeks? - BBC Bitesize )