CONTACT IMPROVISATION
ACTIVITY 1: Watch carefully the following video that shows some movements and techniques of Contact Improvisation: (click on the words to know its meanings) 
1. ROLLING ON FLOOR, SOLO:
- Legs and arms close to the floor.
- Relax your head and neck.
- You can also roll with a more curved back, like a banana.
2. BACK TO BACK AND ROLL:
- Keep straight backs when you sit down and stand up together. 
- Keep contact with pelvis area throughout the exercise.
- The person who rolls on the floor is the wave, let the wave do the work.
- The person who is flying over the wave, relax and stretch out. 
3. LOW TABLE:
- Table: hands shoulders distance, knees in hips distance, engage your core.
- Flyer: roll like you do on the floor, seek to the floor with hands and feet. 
4. HIGH TABLE:
- Base: knees over feet, make a flat lower back and engage your core, be stable and movable, lower your centre underneath the flyer centre. 
- Flyer: Stretch, lift your centre, seek the floor with hands and feet, you can roll like you do on the floor. 
5. HIP-LIFT STANDING OPPOSITE WAYS:
- The lifter slides his/her centre lower than the flyer.
- Flyer learns into the lifter, centre higher than the lifter centre.
6. LIFT UP TO THE CHEST:
- Flyer: lift the closest leg to your the lifter, step up rather than jumping. When you are up, turn the pelvis towards the lifter's chest so that you are as close as possible to the length axis of the lifter.
- Lifter: keep your back as straight as possible when you get the flyer up. Hug your flyer into your chest.
7. SIDE LIFT:
- Lifter: needs to have his/her pelvis lower than the flyer, use the strength of your leg in contact with the lifter to push out to the side and up.
- Flyer: higher centre than the lifter, can throw your arm up to get more weight over to the side of the lifter.
AND NOW: A DANCE USING ELEMENTS FROM THE EXERCISES!
ACTIVITY 2: Related dances: Watch an example of a dance that uses contact improvisation as a tool. What do you think the dancers are feeling? Write it down.
ACTIVITY 3: Now, download "Worksheet: Feelings vocabulary" and match the worlds with their opposites: (Then, try to add more feelings to your writing in activity 2).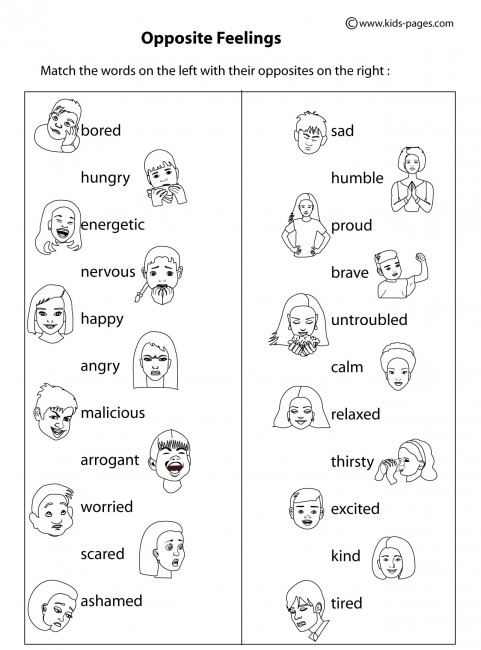 ACTIVITY 4: Let's play a game! Play to game 1, 2 and 3 to check your knowledge about "Body Parts".
ACTIVITY 5: Watch the first video again, to make sure you understand all the video.
GOOD JOB!!