Types of Tickets for Tourists
If you´re just going to use the tube once, and then only one way, then buy a ´single´ ticket that covers the zones you need. The easiest way to do this is to use the big Star-Trek ticket console and pick your destination station out of the list (there´s over 200 buttons to choose from!).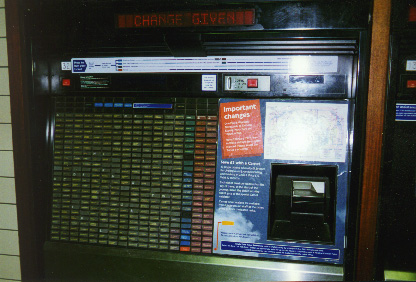 If you´re planning a round trip, you´d select the ´return´ ticket button, but don´t be surprised if the machine suggests you buy a One Day Travelcard instead - after the morning rush hour, it´s usually your cheapest option. Please note though, One Day Travelcards aren´t valid on ´Night Buses´, so you´d have to pay an extra fare for one of these.
When you buy a Travelcard, whether it´s a One Day, One Week, or One Month card, you specify which zones it´s to be good for, and then the card is good for the Tube, Buses, as well as British Rail (more about that in a minute) trains as long as you stay inside the specified zones.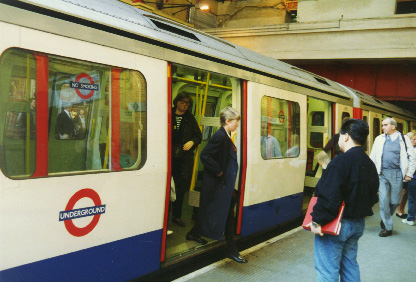 If you´re going to be in London for more than one or two days, your cheapest option is probably going to be to buy a One Week Travelcard, which works like a One Day travelcard with two exceptions, they´re good on Night Buses, and you have to have a ´Photocard´ to use them. Photocards sound complicated, but they´re quite simple - you need to have a passport-sized picture of yourself with you when you buy the card, (most stations have photo machines), and you´ll be given a Photocard which you must have with you when you use the One-Week card. It doubles as a safety device to keep pickpockets from using your travelcard after they´ve picked your pocket (-Do look out for this, it´s quite common in London), and also serves as another horrible passport-style photo for you to have as a souvenir of your trip.
If you´re going to stay in London for a while, (please don´t move into -MY- backyard!), you can even get One Month or even longer Travelcards.